Custom Woven Patches
If you want emblems with intricate detail then woven patches are the best choice for your design. Made on a loom with multiple color threads that can achieve very small detail. These patches add tremendous value to your products and are a great way to promote your business or brand.
One of our favorite emblem styles are custom woven patches. They can handle almost any detail including photographs which can be recreated using multiple thread colors like CMYK printing. Add a merrow border and your patch is complete and ready to add onto hats, jackets, sweatshirts or any other product you can sew them onto.
They are also great for adding onto hats--this is a popular style and versatile since you can add it onto many different hat styles to accommodate people's varying taste in hats.
Woven Patches vs Embroidered Patches
The main difference between these two patch styles is the level of detail that each style will hold. The weaving process uses smaller threads and allows intricate detail like distress texture, super fine lettering, ornate logo details and even photo style designs. With embroidered letters have to be bigger than 4mm minimum (0.15" Inch) so it cannot hold details as well. If your logo has detailed elements then the woven option will be superior to embroidered style in achieving your look.
When designing your woven patch here are a couple things to keep in mind. Knowing the type of product you will be applying your patches to would be your first step. If you plan to use them on hats then you need to know the height of the crown that you will be affixing them onto. The hat crown is measured from the bill to to the peak of the crown. If you want them to work across different styles of hats like Dad Hats, Snapbacks, and Truckers then we recommend a maximum size of 2.25" high by 4" wide maximum. If you are not sure about these details contact us and we will send you our recommendation along with a free artwork mockup showing how your design will look on a specific hat style.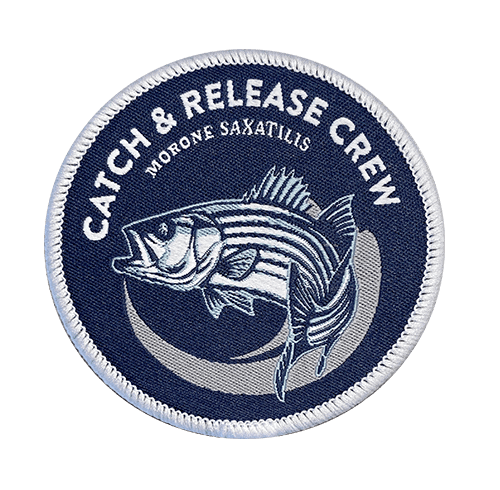 Circular Shape with Merrow Border
Mulitple Colorway Possibilities
If you can't decide on your favorite color combination for your project--then don't! Pick two colorways and have both options that you love. Just keep in mind that different colorways are considered different designs because of the intensive setup involved in changing thread colors.
Iron On
Paper Back
Adhesive Back
Velcro
Sample time 7-8 days. If you require a sample before going into production sample lead time is approximately 8 working days.
Production time 10 days plus shipping (additional day per 500 pieces).
Minimum Size - 1" X 1" (+/-1mm)
12 thread colors maximum in one design or emblem.
Woven can achieve very small detail. Send over your artwork and we will let you know if it is too small. Most likely it will be okay.
Selecting a custom shape is another way to set your woven patches apart apart from others. Let the shape of the emblem be part of the design and the uniqueness of your patch. But remember if you want to apply it to a hat or bag or sweatshirt keep in mind that sewing a complicated shape or contour can add to the cost or potentially not be possible. So check with one of our friendly customer service representatives to see if your design can be easily applied.
Custom Shape w/ I-Stitch Border
Pricing depends on a few factors: Size and shape of your patch, type of border and backing, and also how many colors are being used in your design. Here are some prices below to give you an idea but if you have any questions please contact us or request a free quote. Send in your artwork so we can provide you with the most accurate pricing for your design.
| SIZES | 50+ | 100+ | 200+ | 300+ | 500+ | 1000+ |
| --- | --- | --- | --- | --- | --- | --- |
| 2.0 inches | $2.64 | $1.89 | $1.32 | $1.11 | $0.98 | $0.77 |
| 2.5 inches | $3.04 | $1.99 | $1.40 | $1.20 | $1.04 | $0.80 |
| 3 inches | $3.20 | $2.14 | $1.51 | $1.44 | $1.16 | $0.94 |
| 3.5 inches | $4.30 | $2.50 | $2.04 | $1.93 | $1.60 | $1.30 |
| 4 inches | $5.30 | $2.99 | $2.30 | $2.20 | $1.84 | $1.53 |
| 4.5 inches | $5.87 | $3.55 | $2.87 | $2.30 | $2.20 | $1.82 |
Determining the size of your woven patches for quick, easy pricing for your order. Our pricing formula is determined by adding the Length and Width and then dividing it by 2. The formula looks like this (L+W) / 2 = size for pricing. Here is a visual diagram as well.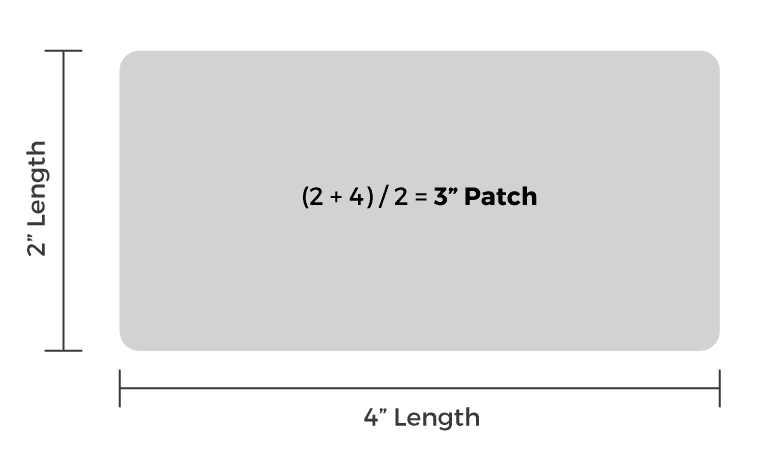 How Are Woven Patches Made - Process
These emblems begin on a special machine called a loom. The loom uses very fine thread, much finer thread than the thread used in  embroidery. This fine thread allows the loom to weave your design in very intricate detail. Once the weaving process is complete then the label is given an extra fabric backing for added strength and then a heat seal backing (if requested) by fusing the material to the label. The last step would be a merrow border (another add-on feature) which is added by hand on a special machine by a skilled operator. The result is a beautiful woven patch with your logo or design.
Friendly Customer Service
Woven emblems for Beanies
Another great application for woven patches is affixing them onto custom beanies. These style of emblem work well on Beanies because the patches usually need to be small to fit on the cuff of the beanie and with woven detail you can make your design small and still read it perfectly. We recommend heat seal or iron on backing to give the label more stiffness which makes it easier to sew onto the beanie and also gives the label more strength so it doesn't become wavy once applied to your garment.
The big difference is that a label becomes a patch by adding certain elements to it like a heat seal backing and a merrowed border which gives it that "patch" look. Custom labels are another great way to add your own personalization to your hat project. By adding a clasp label in the back of the hat or a label inside the hat you are essentially making the hat yours and giving your customers another level of craftsmanship. They say design is the details--so make sure your products reflect your level of sophistication and passion that you want your brand to represent.
Label w/ Iron On Backing Added
Before and After adding Merrowed Border
If you are a bulk buyer then it makes sense to buy wholesale. We are manufacturers of woven patches providing wholesale pricing on bulk orders. If you are considering a quantity over 1000 units please contact us for custom wholesale pricing. If you are a military organization, school or charity please inquire about further discounts. Send us your artwork and we will provide free artwork and a free quote. For the best pricing for this emblem style we are your final stop--give us a call!