Custom PVC Patches
Looking for an eye-catching way to promote your team or company? Custom PVC Patches are here! These special emblems can proudly showcase any design you wish. Made of soft rubber polyvinyl chloride, this material has a unique look and feel that is sure to make your logo stand out amongst the crowd.
With our wide selection of PVC Patch manufacturing services, you can make your unique design come to life in all its glory. You get full creative control; select any size between 1" and 17 inches for your custom made patches, customize the shape or thickness - no detail is too small! And if you need help bringing those ideas alive we've got an artistic team here at the ready with all sorts of appliable assistance waiting for you.
We salute the everyday heroes doing their part to keep our communities safe and secure! Here at Consolidated Ink, we're dedicated to providing trusted insignia of the highest quality for police departments, fire brigades and military units – so they can serve with excellence.
PVC Patches are the perfect choice if you have a design with plenty of fine details that need to stand out. They're made from soft rubber called polyvinyl chloride, which allows us to make any shape and use any color - including shading! When it comes to showing off detailed designs outside, PVC patches provide top quality results; allowing your emblems look fantastic whatever their environment may be.
Create a truly unique promotional emblem to help your message stand out from the crowd! Our rubber patches are crafted with lightweight flexibility, sturdy durability, and sharp detail that brings any design you can imagine to life. Perfect for giveaways or adding vibrancy and texture: these customizable insignias make an excellent choice for all of your promo needs.
PVC patches are a great choice for anyone looking to add an extra layer of customization and stylish durability! Made with high-quality soft rubber, these custom emblems not only look great on promotional items but can be added onto som many different types of fabric from cotton, polyester, nylon, spandex or even leather. From their durability to the ease in which they can be applied – PVC soft rubber patches give you plenty of reasons why it just might become your go-to custom patch option!
Rubber patches are more than just for uniforms. They're the perfect choice to make your logo last, providing durability and comfort so everyone from law enforcement and fire departments to government officials can wear them with ease - plus there's plenty of other uses! Get creative - find out how a rubber badge could benefit you today.
| | | | | | |
| --- | --- | --- | --- | --- | --- |
| | 100 | 200 | 300 | 500 | 1000 |
| 3" | $2.55 | $1.95 | $1.70 | $1.50 | $1.15 |
Pricing for 3D add .50 per unit
Pricing includes up to 3 colors - add .20 per color above 3 colors
Add Velcro or hook & loop backing .75
Guide For Determining Design Area
Determining area size of your emblem. The formula looks like this (L+W) / 2 = area for pricing. Here is a visual diagram as well.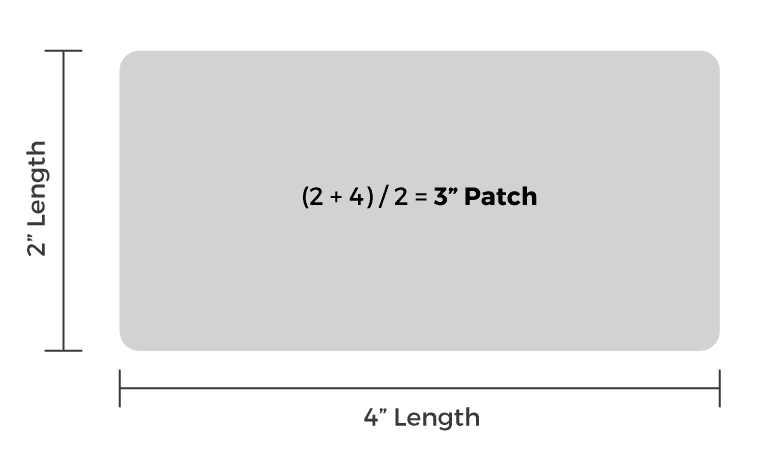 Designing Your Soft Rubber Logo
PVC patches are a great way to make your custom design idea come alive! Once you have the vision in place, you can easily create your own logo or enlist our incredible artistic team who will work with you to craft something unique. With these tools at hand, it's easy and fun bringing ideas from concept into reality.
Ready to make your dream a reality? You're in luck - our design services come at no extra cost! Let's get started, and turn that vision into something special.
Our artistic team has many years of experience creating Custom PVC Patches for police departments, fire departments, EMT providers, government agencies, military units, sports teams, and company owners who are looking for the best ways to brand their business. We place a lot of emphasis on creating the Patch you have in mind and have no problem assisting you when it comes to creating the perfect logo for you.
Ready for a customized PVC patch quote? Get in touch with us to get the ball rolling - we'll ask you some questions about your design. Do you want the logo dimensionality to be 3D, or should it be two dimensional? What type of backing material would best suit it; velcro, iron on, sticky back, etc.? We can also customize any borders around your logo – let's bring that vision to life!
Trying to decide between 3D and 2D PVC patches? 2D offer more of a flat look and 3D offer a look that allows certain areas to pop out above the rest. When it comes to deciding which option is right for you, consider your design and how it will look in each type of patch choice. You may even find that a combination of 2D and 3D works for you. Understand you have many options when it comes to creating your personalized logo.
How are PVC Patches attached? There are 3 choices when it comes to attaching your PVC Patch to your chosen promotional item - sewing them on, adding an adhesive or Velcro backing to them. The sew-on option makes the patch permanent, while the adhesive backing option is a great backing option to choose when looking for a less permanent backing option.
Velcro or hook & loop backing is the most commonly chosen backing for this type of design. Why is Velcro so popular? Because Velcro makes it easy to remove and replace the patches whenever necessary, making this a versatile backing option. Reasons why emblems need to be removed? Washing the promo item it was placed on, the ability to swap out and wear other items, and the need to hide one's identification for safety purposes.
Custom Morale Emblems
Looking for the best way to raise awareness or morale? Or maybe you want to inspire others, express your attitude and/or motivate others? Morale patches can be placed on uniforms, tactical gear, as well as given to sports teams, organizational members, and company employees. The reason for creating these style of emblems is to have a visible acknowledgment on a certain topic. This can help raise the morale of others who see it, as well as strengthen those who are lucky enough to wear this type of patch. 
For those who are looking for the best morale items, understand that using rubber is recommended as they will be treasured for many, many years. And using Velcro allows for easy removal, making Velcro an often better option when compared to sew-on affixing.   
Sheriff Department PVC Patch example
With us, you can make your creative ideas a reality! From logos to designs, we'll help bring your vision to life with beautiful results.
When Do You Need Your Order?
Let Consolidated Ink handle your Custom PVC Patches needs with our reliable fast shipping services. We guarantee you'll receive your order right when you need it! Our knowledgeable team is always available via phone to answer any questions and make sure that everything goes according to plan, so don't hesitate - give us a call today!