Custom PVC Patches
 If you're looking for a modern way to promote your message, then Custom PVC Patches are the way to go! This particular type of emblem is one that easily allows your design to come to life. The polyvinyl chloride material is one that offers a look and feel that simply allows your logo to stand out.
As a PVC Patch Manufacturer we offer a variety of custom patch choices so you can make your original designs look exactly how you want them to look. You can choose custom made patches that are less than 1" or up to 17 inches. You can choose any shape you want, any color you want and you can even choose the thickness of your emblem. Need help? Contact our artistic team now for any artistic assistance you may need to design your perfect logo.
This is great news for those who are looking to create a one-of-a-kind customized PVC Patch!
These are the most popular choice made by police departments, fire departments, and military units when they require professional insignias.
PVC Patches are made using a special soft rubber called polyvinyl chloride that allows us to create your emblem in any shape you want. We can also use any colors you want, which includes color shading. This custom style is a perfect choice if your patch is going to include a lot of fine details that you want to stand out. This material is one that works great when it comes to showing off-color and detailed designs and is one of the best quality patches for use in outdoor applications.
We're able to mold your customized insignia to just about any shape you can imagine, as well as add any colors associated with your message. Because the rubber material used to create your patches can be separated into narrow, recessed lines, we're able to truly make your original design into one that exceeds your expectations. Is this lightweight, flexible, sturdy emblem the right option for your promo needs?
PVC patches are also called rubber patches because they're made using high-quality rubber. This type of patch material is one that offers a variety of exceptional benefits and is one of the main reasons why PVC is one of the more popular types of custom emblems we offer. When it comes to placing your personalized rubber logo on your chosen promotional hat, know that rubber works great when affixed to cotton, polyester, nylon, spandex, leather, and denim materials
Since rubber patches offer many benefits, this is the go-to for uniforms! Your logo made using rubber is sturdy yet soft, making them the perfect choice for long-term use. While rubber badges are often associated with police departments, fire departments, government agencies, and the military, below are examples of additional categories that would benefit from wearing rubber badges.
| | | | | | |
| --- | --- | --- | --- | --- | --- |
| | 100 | 200 | 300 | 500 | 1000 |
| 2" | $2.25 | $1.50 | $.95 | $.66 | $.50 |
Pricing for 3D add .50 per unit
Pricing includes up to 3 colors - add .20 per color above 3 colors
Add Velcro or hook & loop backing .75
Guide For Determining Design Area
Determining area size of your emblem. The formula looks like this (L+W) / 2 = area for pricing. Here is a visual diagram as well.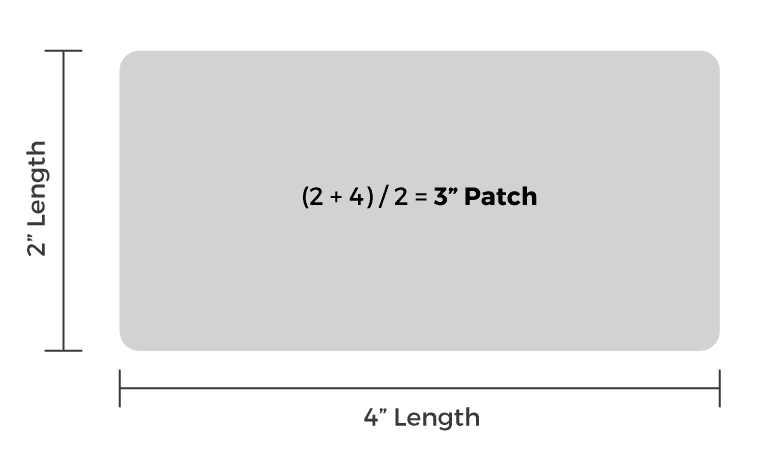 Designing Your Soft Rubber Logo
How are PVC patches made? It all starts with your original design idea. It can be anything you want, which is great news when it comes to creating the custom idea you're envisioning. Once you have a design in mind, you can go ahead and create your logo yourself and then send it to our artistic team for approval or you can utilize the services of our artistic team to create a unique artwork for your PVC patch.
Ready to bring your vision to life? Know that we don't charge extra fees for our design services.
Our artistic team has many years of experience creating Custom PVC Patches for police departments, fire departments, EMT providers, government agencies, military units, sports teams, and company owners who are looking for the best ways to brand their business. We place a lot of emphasis on creating the Patch you have in mind and have no problem assisting you when it comes to creating the perfect logo for you.
Since every single one of our orders is unique, for those of you who are ready for a specific quote, all you need to do is contact us now to receive a tailored quote for your customized PVC patches. Some of the questions we'll ask you is which type of base material you want, which type of backing material you want, and any border or edge customizations you want to be added to your customized logo. 
Custom PVC Patches For Hats
Because customized PVC patches are so durable, they often outlast what they're placed on. Custom hats are the most popular promo item people are choosing to place their emblems on, as hats are a fantastic way to spread awareness!
Custom Hats: Did you know that placing your personalized patches on hats tends to work best for spreading your message? There are many hat choices available for you to place your original logo on, including baseball hats. trucker hats, dad hats, and snapback hats. Every hat choice comes with its own set of unique features, making it necessary for you to decide which features are most important to your promo hat order. 
Baseball hat features – this all American hat offers a low, mid, or high profile, flat or curved bill, and a few different closure options, making it highly customizable. 
Trucker hat features – classic mesh back, a fitted look and offers plenty of space for promoting one's message on the front for all to see.
Dad hat features – Less structure, a casual look, standard or short bill, a variety of closure options, and a hat choice that's always trending. 
Snapback hat features - a long flat bill, a curved bill, or a sandwich bill, can be low profile, mid-profile, or high profile, 5-panel or 6-panel design, and overall offers a sporty look.
Trying to decide between 3D and 2D PVC patches? 2D offer more of a flat look and 3D  offer a look that allows certain areas to pop out above the rest. When it comes to deciding which  option is right for you, consider your design and how it will look in each type of patch choice. You may even find that a combination of 2D and 3D works for you. Understand you have many options when it comes to creating your personalized logo.
How are PVC Patches attached? There are 3 choices when it comes to attaching your PVC Patch to your chosen promotional hat - sewing them on or adding an adhesive or Velcro backing to them. The sew-on option makes the patch permanent, while the adhesive backing option is a great backing option to choose when looking for a less permanent backing option.
Velcro or hook & loop backing is the most commonly chosen backing for this type of design. Why is Velcro so popular? Because Velcro makes it easy to remove and replace the patches whenever necessary, making this a versatile backing option. Reasons why emblems need to be removed? Washing the promo item it was placed on, the ability to swap out and wear other items, and the need to hide one's identification for safety purposes.
Custom Morale Emblems
Looking for the best way to raise awareness on morale? Or maybe you want to inspire others, express your attitude and/or motivate others? Morale patches can be placed on uniforms, tactical gear, as well as given to sports teams, organizational members, and company employees. The reason for creating these style of emblems is to have a visible acknowledgment on a certain topic. This can help raise the morale of others who see it, as well as strengthen those who are lucky enough to wear this type of patch. 
For those who are looking for the best morale items, understand that using rubber is recommended as they will be treasured for many, many years. And using Velcro allows for easy removal, making Velcro an often better option when compared to sew-on affixing.   
Sheriff Department - polyvinyl chloride
Our goal is to make any logo or design you have in mind come to fruition.
When Do You Need Your Order?
We offer fast shipping services so you're sure to receive your order when you need it. When you decide to order your Custom PVC Patches from Consolidated Ink, all you need to do is let us know when you need to receive your order so we can make it happen.  
Ready to speak with a real live person? We're only a phone call away…